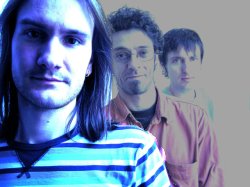 Chris
Chris McConville moved to London four years ago to melt away his little town blues. It was the next destination in a musical quest, as at the time it seemed like there was no stone left unturned in Scotland. With a gut feeling that London was the place to be to pursue his musical ambitions, Chris set off taking not much else other than his guitar and some clothes; going it alone with no permanent address just added to the sense of adventure.
After a spell running acoustic nights at the Kingshead, Barbican, Chris traded in his acoustic guitar and started jamming and gigging with different musicians releasing a demo EP before meeting Wayne Myers and Mike Grocott to form Vivachi.
Chris says melodic bassist Wayne, also known as 'Fast Freddie', is one of the best musicians he has ever met and has a great voice. Drummer Mike has a real energetic style and is the tightest player he has worked with. Chris' husky Scottish vocals and riff based guitar sound gives the band its own rock slant. Vivachi have refined a dynamic fresh catchy sound beyond retro.
Chris' inspiration comes from Bon Scott's tongue in cheek, AC/DC and Sabbath's early classic sound, Syd Barrett's 'Piper at the Gates of Dawn,' Punk and Grunge angst, namely Layne Staley and Kurt Cobain, Warrior Souls energy on 'The Space Age Playboys' album, the Kinks and The Police.